Fairfax County allows students one excused absence for protests
One of the nation's biggest schools systems, Fairfax County Public Schools, located in northern Virginia, decided to allow students a guaranteed day off of school to protest.
"Beginning Jan 27, 2020 students in seventh through twelfth grade will be permitted one excused absence each school year to engage in 'civic engagement activities,' Fairfax County Public Schools spokeswoman Lucy Caldwell said.
On February 14, 2018, a gunman opened fire at Stoneman Douglas High School, killing 17 young students. This horrific event sparked students nationwide to stand up against gun violence in the form of peaceful protests. In addition to gun violence, many students have recently been invested in raising awareness about the deteriorating environment, participating in climate strikes. Gun violence marches and climate strikes are two examples of what young students are interested in and strive to create change in.
Many marches, rallies and strikes happen during the school day at Capitol Hill. Students advocate for their rights, with the goal of convincing their elected officials to pass legislation. The problem is that most school systems, including MCPS, do not excuse students who leave to protest during the school day. Some students go to protests even though they will not be excused from class because they have the right to, but others choose not to go because they do not want to fall behind in school.
Senior Alexander Bove is the president of Young Democrats and helps guide WJ students on the course of action to take when protests arise.
"I go to protests because I have very strong beliefs on a lot of issues. I also organize protests and am behind the walkouts down to DC for gun control. It is very personal to me because I'm often organizing that protest, so I would like to have people come out. I think if you don't have a voice outside in politics, you don't really matter, and I want to give everyone the opportunity to matter," Bove said.
Students in Fairfax County are pleased with the county's actions to support student activists.
"I know there are many kids who would love to be civically engaged but are restrained by the hours of school so I think that by implementing this program it will open up the door to civic activity for many people who were not able to participate before," Fairfax County junior Sarah Kazden said.
Fairfax County recognized their students' desire to attend these protests.
"The school board felt that this was something that could be formalized and wanted to put into writing. There were many students who were engaged and have been engaged and it was decided that it was time to go ahead and put into place," Caldwell told WTOP.
The new policy has specific guidelines that all must follow. The policy grants parents to excuse students up to two days prior to the event taking place. The specific activities students can attend are: meetings with local delegates, senators or congressman, marches and other types of community involvement.
"What I think about the protest days is they're absolutely necessary to have, especially here in Montgomery County where we're so close to the Capitol. It allows students not only to make their voice heard but it also teaches them to be good citizens, which is something that I don't think our government classes do on their own, devoid of opinion and devoid of physical politics can actually do," Bove said.
Students in MCPS are invested in attending protests to personally make change occur. Even though students are missing school, they do it anyway.
"We live in a democracy, it is our job as citizens to stand up for what we believe in. It confuses me how our schools 'aim' to turn us into future leaders. I don't protest to be rebellious or miss school. I do it because there are real issues that need to be fixed," senior Miles Carr said.
Protests are happening all over the world and Fairfax County Public Schools are most likely starting a wave of change for other school systems to follow.
"I think that definitely Arlington County and others that are near to DC will follow the lead of Fairfax County, just because without the constraint of school, being civically engaged is a very accessible thing, especially in our area. It is so important to make our voices heard and fight for our future, as well as what we believe is right," Kazden said.
Your donation will support the student journalists of Walter Johnson High School. Your contribution will allow us to purchase equipment and cover our annual website hosting costs.
About the Contributor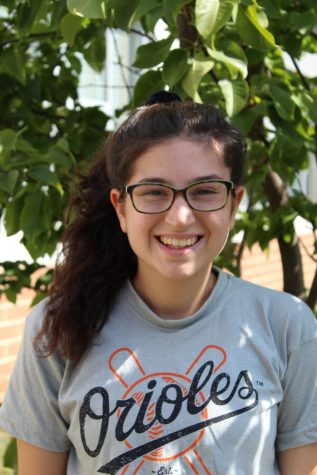 Rebecca Davids, Staff Writer
Rebecca Davids is a senior this year at WJ. She is very excited for her first year on the pitch. Some of her passions outside of school include doing karate,...