Study Circles Program returns to WJ with bigger plans
On Dec. 7 and 9, Walter Johnson hosted the Study Circles program with a group of 30 students and 10 staff members. The program is built to provide the structures for effective dialogue and action so that schools, and the school district, can address practices and policies that limit their ability to close the racial achievement gap. So far it has been incorporated at many middle and high schools in MCPS.
"I believe that the first step to solving any issue is to have honest dialogues in finding the root causes. In an environment where adults in government and other structures of power are unable to dialogue effectively, thereby impacting the country as a whole, we must create the conditions where students and adults can have constructive conversations at schools.  If we truly want schools to serve all students and bring out the best in everyone, this is really a critical step to making our schools inclusive and safe for all of our students, albeit just the first step to a long journey towards equity," program facilitator Darwin Wong said. 
A modified version of the program took place last year on Zoom.  Each staff met with their department with a few students sprinkled in on the last year's Wednesday schedule, which was for staff their professional development days. This year the student-to-staff ratio was much wider. 
"It really should be a majority student, minority staff. There is naturally that with staff and students, that power dynamic, where teachers hold power over grades, they are the adults in the room, they get to decide how conversations go, for the most part, But when you go into Study Circles, you want everyone to feel even, and that the power dynamics are gone, And so when there is only one student of a 30-staff meeting it is very intimidating for the student and so we want the student to feel comfortable enough to share their experiences without feeling like they are being, we want them to feel vulnerable but not scared to share what they have to say," Social studies teacher and Leadership advisor Melanie Schwed said. 
Schwed led the training alongside three other facilitators from MCPS' Study Circles Program. The other staff attendees were Equity and Diversity coordinator and Social Studies teacher Alison Hoefling, Special education teacher Emilia O'Connor, the assistant principals and Principal Jennifer Baker. 
The Study Circles Program team hopes to build a school-based leadership team that can lead and sustain the work at the school level, with the structures and skills necessary to have conversations and dialogues across differences.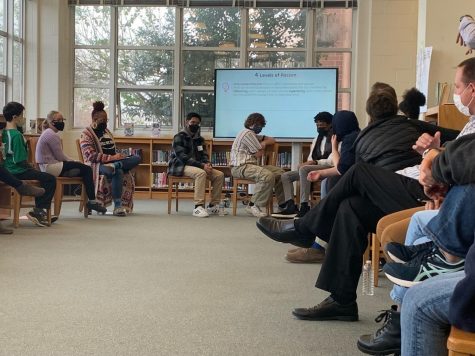 Their motto is, "we want to coach ourselves out of our jobs" so that every school in MCPS has the people with the right mindset and hearts set to listen, learn and create change together. The program realizes this is tough but they trust their team to be able to help facilitate the process, and they trust the students and staff to be able to direct the work collectively as a result of the experience.
Students participated in various activities and discussions over the two days. At first, they started talking generally about themselves in partner groups, and gradually the conversations got deeper and at the end of the second day students delved more into the root causes of inequity in WJ and MCPS. 
"My favorite was the Cultural timeline. It felt very special because everyone was being very vulnerable to talk about personal things," attendee junior Ella Tzeng said. 
The cultural timeline activity was when students got to write on a dated timeline on three kinds of events, outside events that affected them such as 9/11 or wars in their origin countries, personal achievements or events where they were enlightened on or experienced discrimination. The group then got into a discussion where students got to elaborate more on why they wrote these certain events down. 
Students later got into eight groups where they wrote down their thoughts on how stereotypes at our school affect: teaching & classroom dynamics, curriculum, relationships with students & staff, clubs/sports/sporting events, school culture, access and participation in higher-level classes and social media.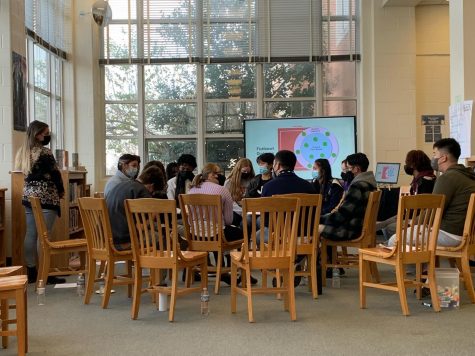 The groups got into a fishbowl discussion with an inner and outer circle about those issues, where students and staff shared concerns and personal narratives about things like the homeroom presentations, reaction to the racist graffiti, teachers attitudes regarding it in class, MCPS demographics and more. 
The students then returned to their 8 groups, joined by staff members, to talk about an issue that everyone touched on the first day: teachers not intervening when seeing racial incidents. Students and staff alike dug deeper into the root causes of said incidents and grouped them into categories of racism: internalized, interpersonal, institutional and structural.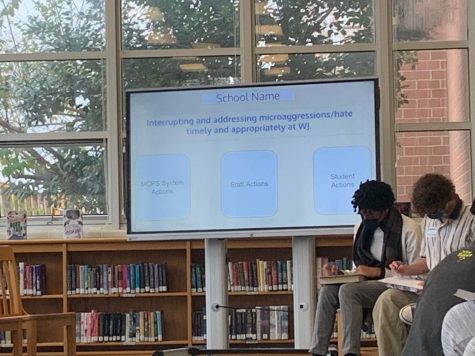 At the end of the second day, students got to write down suggested action items for MCPS, WJ administration, teachers and students to make WJ and MCPS at large a more equitable and inclusive space for all. 
"The advocacy and agency WJ students had during the solution brainstorming section gave me a lot of hope.  WJ students were not passive recipients; they are proactive leaders and change agents in making WJ a more inclusive space for all," Wong said. 
Many students found this experience enlightening and interesting, and hope that the program continues in the future.
"I think they should do it more than once a year because I know there was a lot of interest from other people I talked to who didn't do it. I liked the way they ran it a lot. I think maybe less 'introductions' at the beginning, that was taking up a lot of time. I think just letting students talk more, rather than being talked at," Tzeng said.
The equity unit at WJ hopes to continue this program beyond those two days, too, and possibly expand the amount of staff and students attending, so the message can reach more individuals. 
"I personally would love to have this happen regularly at WJ a few times a year, where lots of students get to be involved and have the opportunity to share like our students got to this last time and where staff members get to be exposed to the student experience," Schwed said.
Your donation will support the student journalists of Walter Johnson High School. Your contribution will allow us to purchase equipment and cover our annual website hosting costs.
About the Contributor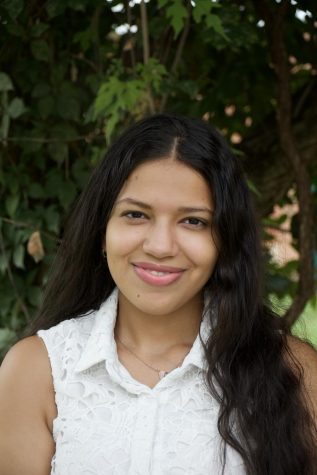 Nour Faragallah, Online Editor-in-Chief
Nour Faragallah is very enthusiastic for her third year on The Pitch. She is a senior who loves reading, keeping up with trends and bashing politicians.