The early college program; finance, computer science and bloody surgeries
What really struck senior Nika Svenson as she stood in O.R. 5 holding an amputated leg, was the amount of blood. Surprisingly, Svenson's presence there was not a fluke, this was just another day of her internship through the Early College Program. Three days a week, Svenson works at Holy Cross Hospital as a surgical technician. Fully dressed in scrubs, a surgical robe, a mask and goggles, Svenson organizes the surgical tools and hands them to the surgeons during the procedure. An added perk (or demerit) of the role is that all the specimens from the body are handed to her to briefly hold, and on this day the specimen was an amputated leg.
"[It was] the bloodiest thing I have ever seen. There was blood spraying everywhere so arteries were cut, the room was a mess. The floor was just red. We went through so many towels. Not to mention the actual leg, which was handed to me and I held a detached limb in my hands for a moment until I had to put it down because the surgeon asked for something," Svenson said.
The Montgomery College Early College program that Svenson is a part of is one of the most interesting but least advertised opportunities for career advancement and resume building offered at WJ. Rising sophomores will have the opportunity in the fall to apply for the program to spend their junior and senior year simultaneously earning their high school diploma and their associates degree. Students apply to specific pathways that align with their interests, such as business, nursing, cybersecurity and for Svenson, surgical technology.
While taking college classes at one of the MC campuses, students spend their days living as commuter college students. The intense program usually attracts students who know what they are interested in exploring and want to do so with high level classes. The opportunity for more specialized classes was a big attraction for business major senior Rafael Isea when he learned about the program.
"I was already taking Econ in my sophomore year, and I was looking to see what classes I could take the next year and I didn't see many that were related to business, so once I heard that there were a lot more available in whatever field you wanted to chose at Montgomery College, I became interested in furthering my passion for finance over there," Isea said.
For others, like computer science major senior Yiting Zheng, the appeal of the program came from the movement away from the traditional high school schedule.
"The college calendar is so much more appealing than WJ and MCPS's half days and professional days and whatever wellness schedule that WJ has this year. Having that consistency of knowing okay I have 16 weeks including finals and that is set, is really nice. And I mean the month-long winter break is pretty nice if you don't have a class," Zheng said.
The amount of classes every week also provides a refreshing change for those tired of the seven classes a day, five days a week structure. However, this decreased class time means students take on a lot more responsibility for their time management and working outside of class.
"My schedule is so much more relaxed, we have three hours of school each day. We take two classes on Mondays and Wednesdays and we take two different classes on Thursdays and Tuesdays. Because we have four classes all of us, we do not have school on Fridays and are first semester we did have school on Friday because we were taking five classes but overall it's a lot less teaching time and a lot more independent homework and researching because you get a lot of long term projects and just more work in general that may be more heavy in content," Isea said.
While students in the program take classes related to their major, they also have to take classes to meet credit requirements for high school graduation.
"I've taken Anatomy and Pharmacology which is actually related to the major but I had to take a whole bunch of prerequisites including Biology, English, Communications, World History and Statistics. And then just Surgical Technology one or two," Svenson said.
Despite the increased pressure, pursuing a passion makes classes more interesting and engaging for students, which can help them do better in early college than in regular high school.
"So far it has been amazing honestly. My second semester at early college was the first time I had ever gotten straight A's, I've always had just one B and that kind of bothered me but because I loved the classes I was able to concentrate a lot and earn my first straight A report," Isea said.
Early college signifies a dramatic change in students' social lives. Leaving high school can mean leaving a lot of friends behind. In early college, larger majors typically still have a lot of socialization. but smaller programs can be more isolating.
"I miss my friends a lot. Like a lot. I don't see many people besides my one hospital buddy and my classmates who I only see twice a week. I love being in the program but yeah," Svenson said.
However, the student life department at MC does provide social events for all students, including early college students, to create more opportunities for community building.
"The student life department always hosts such kinds of events. Like we had a talent show last week, we have a drive in movie theater night coming up in a few weeks. They have a lot of these events, club fairs, just to stimulate the campus participation in after school activities and extracurricular activities, which are fun," Isea said.
Though the program offers amazing opportunities to pursue interests, it does require a lot of commitment, which means it isn't for everyone. Zheng urges prospective students to consider the entirety of what the program means.
"Are you ready to commit to a major right now? Because when you sign up for the program you have to pick your major and once you are in that major you can't switch out. Your only way out is to go back to high school. Are you ready for college courses? Do you personally feel ready to take that next step because there is a big difference between AP classes? Do you feel comfortable with the idea of leaving high school and going to college full time? Do you personally feel mature enough for that?" Zheng said.
On the other hand, for the students who are ready, it can be an amazing opportunity to expand their interests. The biggest change the program strives to make is simply promoting their platform.
"Just advertise it more because I think a lot of students would be interested but I honestly don't remember how I even found it. So advertise it more. You gotta spread the word that this program exists because it is amazing and it can really expand if it has a lot of support," Svenson said.
Your donation will support the student journalists of Walter Johnson High School. Your contribution will allow us to purchase equipment and cover our annual website hosting costs.
About the Contributor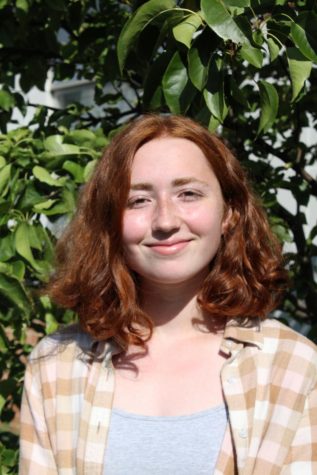 Cora Flynn, Print Feature Editor
Cora Flynn is a senior and in her second year on the Pitch. Aside from writing for the Pitch, Cora spends her time running, making art and hanging out...