Stella Hadamer's senior reflection
I wrote this reflection the way I have written all my articles, in a bout of inspiration and the night before it is due. I couldn't decide what to write, what inspired legacy I should leave behind. I've come to the conclusion that I should just share my experience, because it is just that, uniquely my experience. High school is a journey, a rough, messy adventure that will fundamentally change you as a person. I can say with all surety that I am not the same person I was freshman year, and that's ok. Things aren't finite during these four years, and that's ok. What's important is to be open to change, to experiment, and to be flexible in your interests and relationships. My most important piece of advice is to be strong. I'm saying this with my freshman self in mind. Build the strength to be able to cut out difficult people, stand up to unjust authority, and do what you want – as long as it doesn't hurt anyone you should feel freedom of autonomy and social liberation.
Amongst this roiling sea of exams, anxiety and unpredictability, my rock has been: The Pitch. Every time I felt the tossing waves drag me under I clung to my one abiding support. From freshman year to my final days I've had a space to return to, a space where I have felt welcomed and needed. Room 193 is my home away from home, a place storing countless memories, memories that have become a core part of me. My relationships with my Pitch friends, co-editors and mentors are ones of comradery and shared understanding. My fellow Editorial Board members will also surely agree when I express how proud I am of our new staff. My heart aches with joy when I see the future press weeks, EB bickering and incredible content reflected in the motivation of our incoming journalists. And yet, I've failed to mention one person so far, and that is because she needs a section all to herself. Mrs. Borrelli, I don't even know where to start. I guess the beginning is as good a place as any. When I first met Borrelli I felt, and still do feel, that she is best described as one of those colorful bouncy balls; bright, cheerful, always moving around. She was a source of strength and creativity guiding us towards discovering our own selves and our own talents. Anyone who has ever met her knows how her smile lights up a room and how her genuine personality fills you with warmth. What has impacted me most, however, has been her resilience, like that ball, always bouncing back up again. It can't be easy being a high school teacher, especially one who carries the emotional weight of over a hundred students, entrusting her with their own issues, on her shoulders. And yet, I have never seen Borrelli get angry at anyone, well maybe for never turning in their articles on time, but never for anything else. Her tendency to care for others is something I can relate to and her ability to handle this talent so well is something I aspire to. You are an inspiration, Mrs. Borrelli, you have been for me and will be for the many other wide-eyed freshmen who will walk through our classroom doors. I know saying thank you cannot ever be enough to express my gratitude but ill say it anyway: thank you Mrs. Borrelli, thank you so much.
Your donation will support the student journalists of Walter Johnson High School. Your contribution will allow us to purchase equipment and cover our annual website hosting costs.
About the Contributor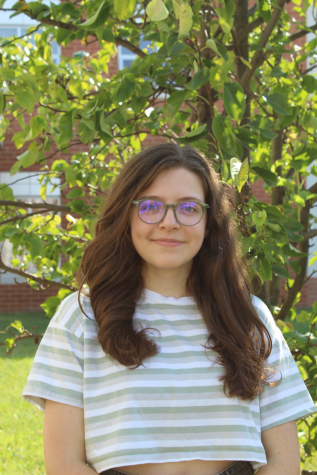 Stella Hadamer, Print Editor-in-Chief
Senior Stella Hadamer is very excited to be a Print Editor-in-Chief in her third year on the Pitch. When she is not writing or editing articles she enjoys...