Several WJ teachers to retire this year; get to know them before they leave
As the school year comes to an end, multiple teachers will be taking a step back to enjoy retired life. These include Frances Burnett, Amy Vachon, William Griffiths and Susan Hartung from the English department, as well as science department mainstays Patricia Richards, William Morris and Jim Hanton.
Susan Hartung has been teaching in the English department for over 23 years since 1998. She has a variety of expertise in fields such as Special Education English, Software Applications and Job Development, but one of the most important things she taught was human behavior, resource, SAT prep classes and HSA prep classes, along with standard honors English 10-11. Hartung recalls her first day of teaching as being very nerve-wracking.
"I do not know who was more nervous that first day, me or the students," Hartung said.
Reflecting on her time at Walter Johnson, she is extremely grateful to have taught a vast array of students, helping them stay in school, and identify and amplify their skill set.
"Some were very bright and eager to go out and change the world, others had difficulty finding their place in that same world, but it meant a great deal to me to try and help them realize their value, skills, and ability. I still hear from many of the students I've taught over the last 23 years and they are, indeed, making this world a better place," Hartung said.
A note for graduating seniors; she will add you back on Facebook!
Hartung's students appreciate her student-centered approach to assignments. She prioritizes giving students a chance to express their views in a clear and concise manner.
"Ms. Hartung has been one of the few teachers that I've had who has truly encouraged me to write about what I want to write about. Her assignments are always tailored in a way in which they are open to interpretation and you can make it fit what you want to talk about rather than only having two sides which is what happens in the vast majority of other classes. This has allowed me to better understand topics that I'm interested in and research them on a deeper level. She has taught me the value and importance of clearly expressing my opinions and views," sophomore Sofia Ugarte Restrepo said.
Restrepo finds Hartung to be invested in a student's writing life. Hartung was happy to review an application that Restrepo was writing for a summer application. Even though Restrepo wasn't comfortable sharing the topic she had written on, Hartung was very respectful which meant a lot to Restrepo.
Hartung is also known for respectfully listening to all viewpoints as freshman James Shiau points out. Towards the rear end of the semester, James recalls that Hartung provided a safe space for students to discuss the ending mask mandates.
Patricia Richards has taught at Walter Johnson for 26 years and is always smiling. She has a burning passion for biology, teaching everything from the standard Biology course to Molecular Biology and AP Biology.
"The miracle that is life is based on basic biochemistry and interactions within and between organisms that every person can learn and come to appreciate," Richards said.
She strives to have students realize the wonders of basic nature and interaction that occur on both ecological and molecular levels.
"[I try to] introduce students to the idea of being ethical to each other as well as ethical stewards of the earth. I became a teacher for the simple reason that I wanted to share the complex beauty of biology with others. The miracle that is life is based on basic biochemistry and interactions within and between organisms that every person can learn and come to appreciate," Richards said.
She keeps content in class fresh by having students read new medical and ecological developments. Richards also strives to make her students aware of the world around them, and understand at a basic level the complexity of nature.
Morris has been at Walter Johnson for 37 years and even taught some teachers at the school, such as English teacher Wendy Borrelli. He teaches astronomy and physics and astronomy and has a burning passion for these areas. Morris has been featured in the superlative category of "Good sense of humor," several times throughout the years.
Originally, Morris wasn't fixated on teaching, but after volunteering at a Summer Camp while he was finishing his higher studies, the director noted down his ability to interact with students.
"I have a deep connection with the school, even though I didn't attend it myself. Many of my family members have attended the school back in the day. It's like a second home to me," Morris said.
Your donation will support the student journalists of Walter Johnson High School. Your contribution will allow us to purchase equipment and cover our annual website hosting costs.
About the Contributor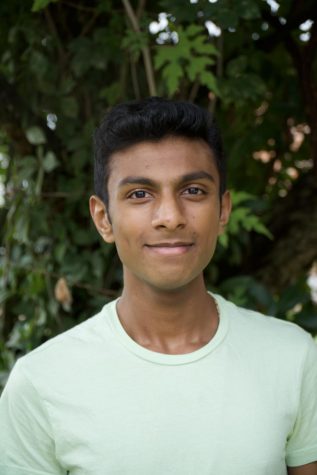 Rutajit Shetty, Business Manager





Rutajit is the business manager for the Pitch this year. He is currently a junior and studies Indian classical music in his free time.