Honoring WJ's talented music students
"We get overlooked a lot … I would like it if there was more recognition and more awareness [of WJ music]," Sebastian Lee, a senior band student, said.
At our school, we tend to put a lot of emphasis on our sports teams. Every season, we have pep rallies where students and staff show their support for the sports teams competing in the season. While this is all great and fun, we should equally support WJ music. WJ's music programs seem to get overlooked in the midst of sporting events even though band and chorus students put just as much effort into their work as athletes do into their sports.
John Grossman and Lee are very musically talented seniors who participate in multiple WJ music programs. Grossman plays in the Wind Ensemble and Jazz Band. He plays the saxophone and the tuba for the school. Lee plays in the Jazz Band, the Symphonic Orchestra, the Symphonic Band and the Wind Ensemble. He plays the trumpet and the French horn for the school.
Kelly Butler, choir and Concert Orchestra teacher, described the importance of every member's contribution to the whole.
"Everybody in the class matters … they try to make one sound … it's hard to do that. So we have to work together to make that sound. So attendance is really important. It's more than skill. They can pick up the skills over time but they got to be here," Butler said.
Grossman also pointed out the way in which members work together in band, forming lifelong bonds.
"Music as a whole is a community. It's like a family. I look at our Pep Band as a family because we're always together. It's like a sports team in a way. We're all doing something that we enjoy and we're all playing music … playing it together also makes it more fun and enjoyable," Grossman said.
In addition to playing for the school, Grossman and Lee play many other instruments outside of class. Grossman also plays trombone, baritone, guitar, base, piano, percussion, banjo, ukulele and cello. Lee also plays guitar, base and ukulele. Both Grossman and Lee are captains of the Pep Band and play in the Pit Orchestra, as well.
They've been playing most of their instruments since elementary school and are now auditioning to play in college. Lee auditioned for the trumpet at UMD, Berklee the Conservatory, Belmont and Baldwin Wallace. Grossman auditioned for the tuba at Berklee College of Music, Belmont, USC, NYU and Catholic University.
Yet, we don't seem to be aware of students like Grossman and Lee who are working to pursue their instruments in college. Athletic achievements of WJ students are featured prominently on our school website, but the same cannot be said about students in music programs. It's wonderful that we honor our school athletes, but we should do the same for our music students.
After all, the band contributes so much to school spirit. They play at pep rallies, football games, basketball games, musicals, graduation, etc. Christopher Kosmaceski, the band teacher, emphasized how much his students support the WJ community.
"To be able to see students represent WJ [is great]. [They show] a lot of pride and class when they're going to the festivals or music competitions or just playing for their community," Kosmaceski said.
But we, as a community, could do more to support all the great musical talent.
"We get overlooked a lot, especially for graduation. We didn't get SSL hours for that," Lee said.
"For the pep bands playing at a football game, sometimes we'll get applause from some parents sometimes. But it would be better if we got more recognition," Grossman said.
WJ should have a concert during the day for all students to attend, as an assembly. It's important for all of us to learn about and admire the hard work WJ music students put in and the serious dedication they have for music.
Grossman and Lee both loved this idea. They thought that it would be the perfect way to spread the message of joining band, as well as giving them more chances to perform in front of an audience.
"And also having more opportunities to play in front of people will help the bands a lot because that's what professionals do all the time," Lee said.
Butler and Kosmaceski have both given this idea thought. The only issue is logistics and finding time in the calendar to hold a school-wide assembly concert.
It should be a high priority on WJ's schedule to establish a time for the band, orchestra and chorus classes to perform so students can appreciate our talented musicians.
Music means so much to both Grossman and Lee; it's more than just playing instruments to them.
"Not to sound like a geek, but music is basically my life. It's a huge part of my life and I'm glad that I get to share it with people," Lee said.
Your donation will support the student journalists of Walter Johnson High School. Your contribution will allow us to purchase equipment and cover our annual website hosting costs.
About the Contributor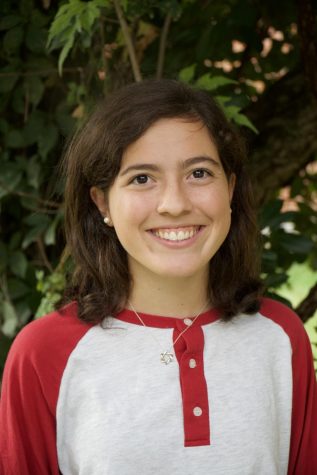 Rachael Wolfson, Print Opinion Editor





This is Rachael Wolfson's second year on The Pitch and second year as a Print Opinion Editor. She is currently a junior. In addition to The Pitch,...