A rundown of the MCPS Superintendent's press conference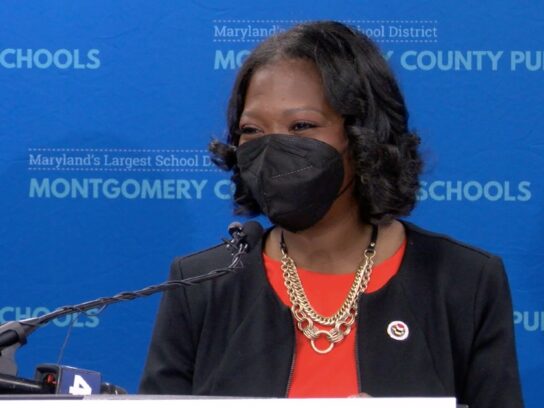 On March 22, newly appointed Montgomery County Public Schools Superintendent Monifa B. McKnight held a virtual briefing for student newspapers across Montgomery County.
In attendance were McKnight, Director of the Department of Communications, Christopher Cram, chief of staff for MCPS James D'Andrea and students from various schools across MCPS.
The press conferences discussed topics such as the Antiracist System Audit, the spike in school violence, mask wearing in school and virtual academy.
Spike in school violence and county response:
A large portion of the conference surrounded school safety as a result of the recent spike in school safety threats, staff training and SROs/CEOs.
During the incidents that occured at Magruder, and the ones following it, many felt unsafe coming to school; Absences were also relevant to the conversation. According to McKnight, flexibility has been key in situations like this.
"We've made adjustments in a number of ways in terms of being very thoughtful about how we consider absences and providing [excused] absences when a tragic event happens in a school in which we want to honor student wellness… The word flexibility has become really key to these processes," McKnight said.
McKnight again emphasized that whatever system is put in place whether SROs, CEOs or other resources should be put in place to work for the benefit and safety of the students.
"We said we want to reconcile 2 things: we want our students to feel safe and valued in their school environment because that is the ultimate desire that we want for every single student, and then we also want to balance safety and one shouldn't supersede the other," McKnight said.
As a result of the recent spike in violence, a staff training has been planned in addition to the training that staff undergo every year. This training has not been done in the past and McKnight is excited to implement it.
"I'm really excited about that because it's like we've taken ownership for their training and their development as a school system. And we're not putting that off saying because they're our employees, they belong to the county government, but they're working with the school system. So we wanna influence their thinking in a way that's meaningful for you and all of your colleagues that are in the system," McKnight said.
Antiracist System Audit:
Throughout the conference, McKnight discussed the Antiracist Audit and eased some concerns that it had taken a back-seat to Covid issues. She also emphasized the importance of getting the perspective of everyone who wanted to be involved.
"We wanted to involve everybody in our community who wanted to be a part of this process. Students, parents, staff members, community members, everyone who had an interest in understanding what it would be and then ultimately how it would benefit the school system, we wanted them to be a part of the conversation," McKnight said.
A big pillar in this process was receiving the opinions of the citizens of MCPS; that this be a collaborative effort. An example of this was the recent survey sent out to students, which was intended to help get a more qualitative perspective. The report is expected to come out at the end of this school year.
"The idea is to get the involvement of all of MCPS, as we are a diverse community, we want a true understanding from all groups, what is the perception and what is happening right now within these areas of focus that we are looking at in the audit that tells us the true story of what's happening," McKnight said.
Hearing student voices was a big part of McKnight's inspiration for the audit and the information gained was valuable. Curriculum changes were also talked about, especially in changing biases within the curriculum and incorporating different information in the curriculum.
"So figuring out where it [biases] existed and where there were quick wins, figuring out what is the professional development that needs to be done for staff. And then the long term part of that is how do we make this history piece relevant to students when they're younger, so that we don't even create the space for that confusion to be developed as they grow older in the school system, right? Because when you have a strong foundation of history, generally as a whole, from a very honest and open perspective and it even validates maybe in some ways questions that a student may have about their own culture and who they are," McKnight said.
McKnight showed considerable interest in the student perspective as well as the community perspective on all matters, especially because of the size and diversity of our community. McKnight wants the community to be continuously involved in all of these processes as they continue to grow.
"Most importantly, engaging all of the staples in our community and determining who was going to be best suited to do this audit in the 14th largest district within the United States… we didn't want this to be a process in which we engaged the community and then all of the participation stops and then everybody gives a report at the end. The reason we don't want to do that is because there are things we should be learning along the way that we can actually think about, consider, and react to," McKnight said.
Equity Accountability Model:
McKnight also noted the equity accountability model, a model meant to gauge the equity levels in schools across MCPS. It is also designed to achieve a better understanding of how staff and students feel and what disparity and discipline look like within the schools.
"The purpose of the equity accountability model was to be able to be one that complimented the evidence of learning… How is each individual school doing in terms of overall the culture and things that just get at; is there equity within the school? So that gets looking at who's enrolled in what classes, what the suspension rate looks like," McKnight said.
The antiracist audit will either confirm things that are included in the equity accountability model that is or should be monitored, or it may reveal something new that should be given attention. The idea is to get each school's individual story.
"I'm looking forward to that anti-racist as audit report making any of the final tweaks that we need to have for that model. So that is in full use next year. And we're using that as a system so that we actually know what the equity story is in every single one of our schools in the school system. And we can be most importantly responsive and that school can be responsive to whatever we learn in that space," McKnight said.
Schools will be different depending on the feedback and results from that school. Each school is expected to dig into the root cause of their issues and the changes will be made on a school not system level, as each school is unique.
"And that's not something we could do at the system level, nor should we… [I] actually want the school to dig deeper into the problem and say what is happening. And so it's those who are experiencing the discomfort or whatever the issue is that would have to be able to ripen the issue for us to determine what's the root cause of it," McKnight said.
Specific schools are supposed to decide what is best for them depending on their issues.
"When I say community, I mean the leadership of the school, the students and the staff. What I do know is everybody always has an interest in figuring out what that is so that the community is best at working for what all those needs are. So they would have to come together and come up with how they're doing that. And most importantly would be able to project to us as a system. This is what we're doing to address this. And this may be resources or whatever we need to help us address this problem," McKnight said.
Mask wearing in school:
On March 8, mask mandates were dropped in schools across MCPS. McKnight agrees that staff and students have been respecting the mandate drop and is proud to be part of such a community.
Though the mandate was dropped, circumstances are being monitored to make sure it doesn't have to be reinstated as a result of what is happening around the world.
"We have to always continue to monitor circumstances and we could possibly have to return to it [mask mandate]. So of course we're watching what's happening in Asia and Britain, I believe it is with the new variant. And so we're looking at that and we will continue to work with the department of health and human services to monitor what's happening with that. Because if we feel like something is happening that may put a threat into our community and we need to return to that, then you know, we'll do that," McKnight said.
Virtual Academy:
Virtual academy was created during Covid times when flexibility surrounding the school system was needed, especially for those who wanted/needed to stay home due to the pandemic.
"We were able to monitor data and look at, you know, who and how students are able to thrive in that environment to really leverage looking at the profile of a student and what are the factors that come into play that allow them to be successful in a virtual environment," McKnight said.
Students who signed up for virtual academy still have the opportunity to return to in-person learning at the end of each quarter.
Virtual academy will be available to students in the future and it is a program that can make the MCPS school system a more equitable one in terms of access. Most programs are limited by the number of students that can apply to the course but virtual academy is not limited by those standards.
"I want us to be able to build on that in terms of thinking about what is the future of Montgomery County virtual academy that goes even way beyond the circumstances of COVID 19. And so that's what we have been planning and building on. And I see, I foresee us building on this every single year to continue to create more accessibility and opportunity for our students," McKnight said.
Your donation will support the student journalists of Walter Johnson High School. Your contribution will allow us to purchase equipment and cover our annual website hosting costs.
About the Contributor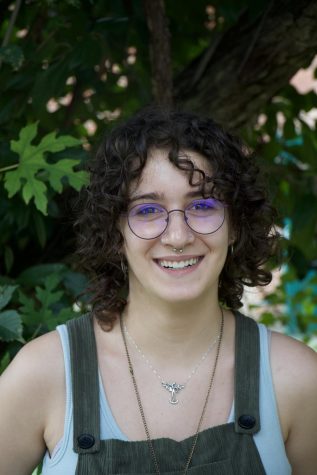 Yuval Shachar, Print Editor-in-Chief





Yuval is a senior, excited to be a Print Editor-in-Chief for her third year of the Pitch! Outside of Room 193, she enjoys reading, listening...