Meet WJ's Jazz Ensemble
The average student schedule has seven classes a semester. Seven opportunities to acquire a wide breadth of knowledge on anything from art history to microeconomics, from Latin to molecular biology. In one class located in room 193, however, student musicians get into a different swing of things.
Jazz ensemble is an instrumental music class where students specialize in playing a specific jazz instrument, ranging from low brass (trumpet, trombone and saxophone) to the rhythm section (piano, percussion, drums, guitar and bass). It is considered to be one of the more advanced instrumental music classes, requiring students to extensively practice in order to prepare a selection of music, as well as their sight reading skills, for their application for the class.
Despite its lengthy time commitment the jazz ensemble requires in order to keep up with the challenging repertoire, one of the main things that attracts students to the class is the close-knit relationship that the musicians form within the ensemble.
"There's a lot of creative freedom. There's not a lot of instruction; it's more of guidance. I would say that there's a lot more time to play, and it's a smaller class, so it feels more like a group of friends playing rather than a class," drummer junior Itay Yanay said.
The leader of the group is music teacher Christopher Kosmaceski, who has been teaching the class since he arrived at WJ in 2005. While he is widely recognized as a fixture of the instrumental music program, his route to teaching wasn't exactly a straight line.
"My first degree is a bachelor's in business administration, and I majored in actuarial science and risk management and insurance… Eventually I decided that I wanted to teach music and not continue with the business world. [However], those managerial skills can be applied as a teacher as well," Kosmaceski said.
While they all play their own individual instruments, each student must work together in order to learn how their part fits into the wider group. From the trumpets to the saxophones to the rhythm section, each class period provides critical time for students to learn how to play with the ensemble as a whole.
"It makes you have to work with all types of people… in the rhythm section, it's really important because you have to have that connection between every single person. [You need] to know when [someone else] takes a solo you gotta get quieter [and] maybe play back and forth on notes and rhythms," Yanay said.
In order to prepare to perform in class each day, students must practice consistently after school, honing their skills and working through the music. Oftentimes, Kosmaceski will draw from his decades in musical experience to explain the intricacies of a certain musical technique in a fun and engaging manner.
"He relates things to everyday life, different situations and that sort of thing. [He uses] hypothetical situations to connect everyday things back to music, which I think is cool. And he always listens to what everyone has to say, and I think that's really nice," trombonist junior Gabriel LaCount said.
While all of the students in the class share a common love for music, many do not plan to pursue a higher musical education after they graduate. Nevertheless, the skills and valuable life lessons that they learn as a member of the group are things that stick with them regardless of what they decide to pursue.
"You learn subconsciously to complement each other. You develop ideas of building connections, and it kind of highlights the importance of building chemistry between people and how important that is for day-to-day life and conversations," Yanay said.
Aside from granting them the opportunity to express their musicality, the greatest gift that the class offers students is a brief respite from an endless barrage of tests, worksheets and homework assignments.
"I think it's fun because it's something different from the [rest of the] school day. It's lots of learning and maybe notes or activities for other classes, but it's fun to just do something different and just play music. It's very enjoyable," LaCount said.
Your donation will support the student journalists of Walter Johnson High School. Your contribution will allow us to purchase equipment and cover our annual website hosting costs.
About the Contributor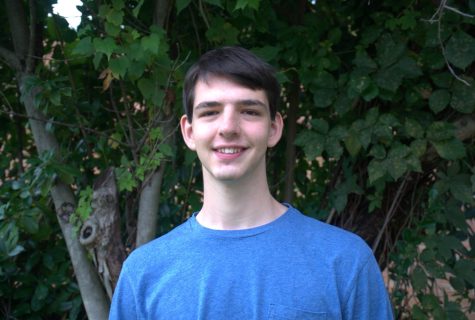 Alexander Lewton, Print News Editor
Alexander is a Print News Editor for the Pitch. He is a senior and in his free time he enjoys reading, hiking, and playing the piano.