WJ students rush to attend in-person concerts
Over the course of the pandemic, we've had to put many of our favorite activities on halt- including concerts. With the gradual decrease of Covid-19 cases in the US, most artists were given the green light to perform live again and fans have been ecstatic to go to these shows.
As soon as the Covid-19 restrictions were lifted, events and shows came back in full force. Concerts were back in business starting in mid 2021, and many teens took the first opportunities to get tickets as soon as possible.
Senior Kyra Lee, who has attended around 6 concerts over the pandemic, has experienced the hype of both large and smaller crowds.
"My favorites were Tame Impala and Dayglow. I didn't attend many concerts back then so I took advantage of the artists performing," Lee said.
Most concerts took place over the summer and fall when cases were at the lowest.
"I think the vibe of the artist was the same. They performed similarly, but overall safety and safety checks were more of a big deal. There were people who passed out due to dehydration and help was provided to them immediately," Lee said.
Similarly to the indie artists who began performing over the fall, Harry Styles' 'Love On Tour' was one of the biggest concerts to fall through for fans who patiently awaited.
"[Masks were] pretty enforced and the COVID protocols were strict. People were required to wear masks and show vaccination cards. If you weren't vaccinated, you had to bring a recent negative test," senior Jalani Inniss, a huge Harry Styles fan said.
A great number of people attended Pitbull's 'I Feel Good' tour with Iggy Azalea in September and there was a ton of media coverage over Covid-19 safety.
"We wore masks and moved from the middle of the lawn to the sides to avoid people. People were so crowded and no one had personal space," senior Maddie Helford said.
There seems to be a pattern in how safety is enforced, smaller venues care more about stricter mask and social distancing policies in comparison to larger ones, like Jingle Ball 2021, where both Covid-19 and overall safety was not taken seriously due to the multitudes of people who attended.
"I think It's fair [that people are still scared to go] because a lot of people haven't been wearing masks, especially at big venues like the 9:30 club," Helford said.
Some have chosen not to go, while some aren't even allowed because of concerned relatives.
"I agree with them. It's risky being in a closed space with thousands of people. I double-masked to be cautious but I totally get the fear of getting sick, but I wouldn't have missed it for the world-best day of my life," Inniss said.
Would there be a difference in these environments pre-covid? Based on how care-free a lot of shows have been recently, it is safe to assume that it wouldn't change.
"I don't think safety would be as enforced. Mosh pits would still be moshing, covid or not, like now they still actively helped people by handing out water and pulling them out," senior Fredy Gonzalez, who attended the Playboi Carti concert said.
As cases one again lower, and more social events and gatherings open to the public in time for spring and summer, it is important to keep in mind our personal safety and hygiene in all our surroundings.
Your donation will support the student journalists of Walter Johnson High School. Your contribution will allow us to purchase equipment and cover our annual website hosting costs.
About the Contributor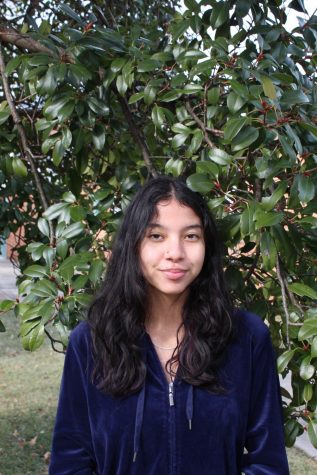 Belen Pacheco, Staff Writer
Senior Belen Pacheco is a Staff Writer on the Pitch. It is her first year on the Pitch and in her free time she dances, enjoys photography, and spending...