Midterm elections kindle hope, anxiety
As the calendar turns over to November, Maryland, along with the nation as a whole, is gearing up for the midterm elections on November 8 that will serve as a major litmus test on the direction of a heavily divided nation. Up and down the ballot, voters will have the opportunity to elect candidates that could deliver a myriad of changes in the upcoming legislative season.
Inflation concerns remain at the top of most voter's minds, with soaring gas prices and costs of household items acting as a significant drag on Democrats' hopes of maintaining their trifecta at the national level. Also weighing heavily on the election is the Supreme Court's ruling in May to overturn the landmark Roe v. Wade decision, which allowed many Republican controlled states to pass bills strictly restricting abortion access. In Maryland, the right to an abortion is enshrined in state law.
"
Due to the recent overturning of Roe v. Wade I'm sure abortion is fresh on many voters' minds, with people either going to the polls to make sure the right is upheld or struck down on a state level. Additionally, inflation and economic troubles are affecting many peoples' lives, and I'm sure voters on both sides will want to elect someone who can help stabilize the economy.
— senior Ziyi Lu
In Maryland's governor race, far right Frederick County lawmaker Republican Dan Cox is running against Democrat Wes Moore. Cox, who defeated moderate former Maryland Secretary of Labor, Licensing and Regulation Kelly Schultz in the July primary, has sparked fears that his extreme views may cost him significant support across the state's relatively liberal voter base. Incumbent governor Larry Hogan (R) has declined to endorse Cox, whose campaign woes have been compounded by a significant fundraising deficit compared to Moore.
A recent poll conducted from Oct 20-23 by the University of Baltimore and the Baltimore Sun found that Moore holds a 31% lead over Cox among likely voters. Moore has enjoyed overwhelming support from Democratic voters in polls released throughout the election cycle, but also has been able to capture an impressively large percentage of independent and Republican voters.
At the county level, Montgomery County Executive Marc Elrich is running for a second term fresh off of a hotly contested primary rematch against David Blair. The incredibly narrow race saw the candidates separated by just 32 votes after a closely scrutinized recount. Elrich will likely enjoy a much more comfortable general election against Montgomery County GOP Chair Reardon Sullivan in the deeply Democratic county.
Freshman Anna Jhon interned for a number of elected officials over the summer including Maryland House of Delegates candidate Joe Vogel and Montgomery County Board of Education candidate Julie Yang and received a first hand look at a change in political sentiments across the region.
"I can tell you that just in our county we see more action actually going towards plans. And I feel like in the past before the pandemic and stuff it was like 'oh we can get this done' but it never really happens, but now we suddenly see this increase in actual action that [is] taken from candidates, students, teachers and all of that," Jhon said.
While support for Democratic candidates remains high in Montgomery County, social studies teacher Elizabeth Muehl believes that due to differences in the salience of certain issues they may fall out of favor outside of this cobalt-blue area.
"In this area, truly the issues are what are being called the 'non-material issues', abortion rights, things like that. In other areas like outside of Pittsburgh, in central Pennsylvania, it is money, it is the economy, it's the fear of heading back into the recession and 'what's going to happen to my retirement pension, am I going to pay for my house?' It's playing a huge role in how people are voting. Whether or not the politician that they are voting for can actually help the economy is a whole nother issue, but that is something that people are voting based on," Muehl said.
Also receiving a great deal of attention this year is Maryland Ballot Question 4, in which voters will make the decision whether or not to amend the Maryland constitution to legalize recreational marijuana. This would follow neighboring D.C. and Virginia, which legalized the drug in 2014 and 2021 respectively.
Registered voters can vote at their designated polling location Nov. 8 or early in person at select voting sites until Nov 3. Any eligible voter can also vote by mail no-excuse as long as their ballot is postmarked before Nov. 8. Students can check their voting eligibility and register to vote at https://elections.maryland.gov/voter_registration/index.html.
Your donation will support the student journalists of Walter Johnson High School. Your contribution will allow us to purchase equipment and cover our annual website hosting costs.
About the Contributor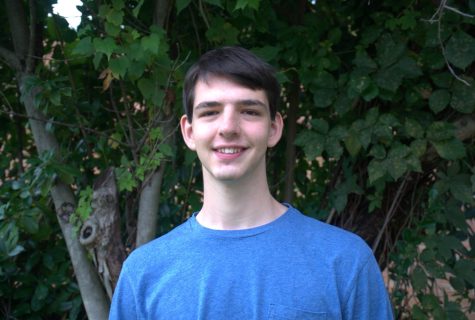 Alexander Lewton, Print News Editor
Alexander is a Print News Editor for the Pitch. He is a senior and in his free time he enjoys reading, hiking, and playing the piano.