Underclassman wait patiently as their older peers receive COVID-19 vaccine
As of mid-April, every American ages 16 and older is eligible to receive the COVID-19 vaccine. Millions of Americans have already been vaccinated and even more are eager to get their first dose. But there's a certain group of Americans notably left out. No one under the age of 16 is eligible to receive the vaccine.
For WJ underclassmen, many of whom are 14 and 15, this has been quite frustrating. They understand and appreciate the need to test the vaccine on younger patients but falling so close to a seemingly arbitrary cutoff does sting a little.
Sophomore Eli Herman is just a couple weeks shy of their sixteenth birthday. Their sister Olivia, a junior at WJ, recently received her vaccine but Eli is still waiting. The Hermans are close in age so it's a little strange for them to have Olivia eligible but Eli not be.
"It's frustrating because 15 and 11 months is very close to sixteen so I can't imagine something magically changes when I turn 16," Herman said.
Sophomore Talia Schofer is also too young for the vaccine but many of her friends have begun to get it.
"Just today, two of my friends texted me pictures of them getting the vaccine and I'm just like 'that's nice,'" Schofer said.
Because 16, unlike 18, is not the age of majority in the US, some teens like Schofer have wondered why 16 is the age at which people are eligible for the vaccine.
"I understand because they haven't tested on younger kids but it feels like an interest cutoff. Like why 16?" Schofer said.
Have you gotten vaccinated yet?
Sorry, there was an error loading this poll.
The Moderna and Johnson & Johnson vaccines have an 18 year old cutoff but the Pfizer vaccine is available to people 16 and older. These cutoffs were determined by the ages of the people in the trial group.
Though eagerly awaiting her own shot, freshman Makenna Aylward is very grateful that vaccines have reached so many other Americans, especially high risk ones, and that a light at the end of the tunnel is beginning to emerge.
"With people getting vaccinated now, it's starting to feel safer. Not like the same feeling we have all had for months, just sitting in this whirlwind of madness and unknowingness," Aylward said.
Watching so many of their peers get vaccinated has encouraged students not quite old enough for the vaccine to get their own once it is approved for them.
"My birthday is on a Wednesday so I'm hoping to drive out and get it the day I turn sixteen," Herman said.
Pfizer recently submitted a request to the FDA for an approval of their vaccine to be administered to 12 – 15 year olds, so it's very possible that all WJ students will be eligible for the vaccine in the near future.
Your donation will support the student journalists of Walter Johnson High School. Your contribution will allow us to purchase equipment and cover our annual website hosting costs.
About the Contributor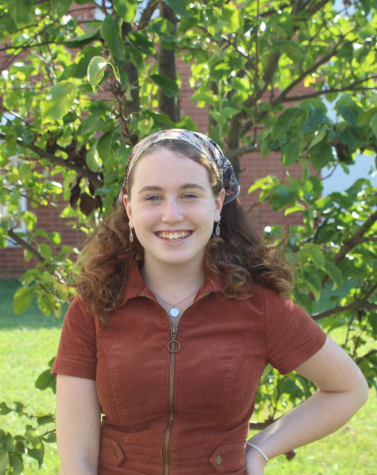 Maeve Sanford-Kelly, Print Managing Editor
In her second year on The Pitch, Maeve Sanford-Kelly is excited to be serving as a Print Managing Editor. Outside of The Pitch, she's the Chair of Maryland...