Commander to Counselor: Lisa Sorenson
As a teenager, Lisa Sorensen was always on the move. She attended Walt Whitman High School before taking a year abroad in Israel and returned to Maryland to finish school at the Jewish Day School in Rockville. After graduation, she returned to Israel, where she was recruited into the Israeli military at age 18. There, she served a little over two years (1987-1990). She then moved from attending a three-to-four month boot camp to training new recruits, where she became a Commander/Drill Sergeant for nine months. She served as a social worker for new recruits throughout the rest of her term.
The Israeli military held a tight schedule. While Sorensen was in training, she went through a multitude of rigorous courses in basic training involving weaponry, explosives, navigational skills and more. She later taught these skills to new recruits.
"A lot of it was putting us to the test to make sure we could withstand really difficult circumstances. It was a really tough course. It was draining physically and emotionally," Sorensen said.
As a drill sergeant, she received little to no sleep, and endured hours upon hours of planning, training and supporting her unit of women her age or younger. A large portion of her seemingly aggressive job was actually comforting and understanding the 'students' in her unit, creating a family built on leadership and teamwork.
"I remember the girls were just really supportive of each other, it taught me a lot, there was a lot of pride in doing this job because you basically are given the role to be the first face of the Israeli military that these new recruits experience," Sorensen said.
The military is, indeed, not a glamorous job. For Sorensen, her experience as a drill sergeant was something out of her control, but she has no regrets about it.
"I'm so glad when I look back on my life that I did this. I was able to get through this experience. It was a very different time in the world, a very different time in my life, and I feel like I grew up so much from the military experience and really having two years of my life basically be out of my control and having to be accountable towards a system," Sorensen said.
Sorensen's experiences even before her time in the military prompted her future career in counseling. Her return to America after her year abroad was a transitional struggle, but it largely influenced her path toward school counseling, as a supportive counselor teaching at the Jewish Day School helped her through the process.
"I remember my school counselor was just super, super supportive. Always had an open door for me, worked through things with me, and would be a great listener. I think she really inspired me just to work with students and be there for them at a difficult time in life," Sorensen said.
After her time in the military ended, she majored in Secondary English at the University of Maryland. From there, she went on to pursue her Master's Degree in school counseling while attending John Hopkins University. Following that, she received her first counseling job at Walter Johnson High School in 2002. Besides her previous counselor's inspiring guidance, the leadership development gathered in the military also contributed to her love for counseling and how she thrives in her current environment.
"The job that I had was almost like I was taking care of my soldiers as a commander and as a drill sergeant, I was still disciplining and teaching them how to be soldiers, but I also had to really care for them and be there to support them in this transitional time, which is a lot like what I do now," Sorensen said.
Sorensen continues to look back on her life with no regrets; 2023 marks her 11th year of teaching at WJ, and she's excited to continue supporting our amazing community and applying what she's learned in Israel.
"It was rewarding. I feel like a lot of American kids would benefit from doing something for our nation, some type of experience, whether it's military or service, community service. I think it built character, I think a lot of times like to have stuff that I've had to go through in my life. I just remember that like, I learned a lot of resilience at that time, it was hard," Sorensen said.
During a time of big decisions and stressors, Sorensen acknowledges the struggles during high school and encourages students to destress and focus on their strengths instead of their weaknesses.
"Find things that connect to your strengths and that will help you plan for the future. I would not expect a 16, 17 or 18-year-old to know what they want to do for the rest of their lives, but I would certainly say, seek out experiences that are gonna help build you as a person," Sorensen said.
Your donation will support the student journalists of Walter Johnson High School. Your contribution will allow us to purchase equipment and cover our annual website hosting costs.
About the Contributor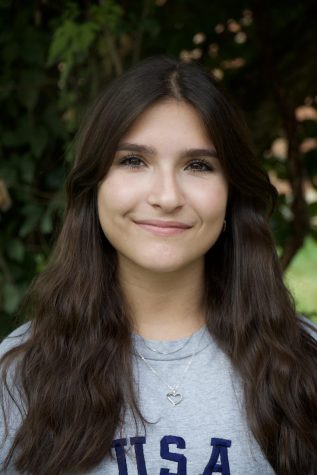 Sophia Yodice, Staff Writer





Sophia Yodice is a senior and a staff writer for the WJ Pitch. This is her first year on the Pitch and in her free time, she loves to dabble...