Learning for Independence: where education exceeds classroom lessons
While you work on an assignment, the door creaks open and a student quietly drops off mail for your teacher. The teacher thanks them as the student closes the door and continues along their mail delivery route. To many students, this may seem like a simple errand to run, but for the students of the Learning for Independence (LFI) program, this is a tremendous victory.
Built for students with complex and cognitive needs, including mild to moderate intellectual disabilities, the LFI program is designed to meet each student's needs through specialized learning.
"There's more than one teacher and we're able to collaborate and serve more students so the kids are able to meet more students who have different abilities, and make more friends," special education teacher Kelsey Newcomb said.
A team of three dedicated teachers and several paraeducators work together to ensure that each student has plenty of support within the classroom. Students take core classes taught by the LFI teachers such as English, math, social studies and science and can choose to take general education electives like art or P.E. LFI students also take a specialized version of cooking and health as well as life skills and horticulture.
The first introduction to practicing these life skills is early on, in 9th and 10th grade. The underclassmen are given the task of mail delivery among classrooms, learning how to remain quiet throughout the hallways, not disturb lessons and stay with the group while they complete their route.
Progressing throughout their high school years, their typical school days stretch far beyond the walls of WJ and become more community-based. Beginning in 11th grade, students partake in job sampling for a semester, or for even a whole year, working at CVS, Michael's, Salvation Army and more. The students take their knowledge from their job skills class and implement it into their very own jobs. The ultimate goal is that they can acquire jobs once they venture off after their years in high school.
A huge part of the high school experience is the social aspect, including the extracurricular activities offered. In MCPS, LFI students are able to join the bocce team, an integrated sport composed of players with and without special needs.
"[We're] trying to do as many things as we can to integrate them, to include them, in the normal, typical teenage world of high school because it's the best years of your life," special education teacher Kimberly Perikles said.
Friday community trips are also a key aspect of the LFI program. Whether it be the library, laundromat, restaurant or grocery store, the students are always gaining exposure to public spaces and combating any challenge that may come their way. It's never just a field trip.
"With a look towards, 'What skills do I need to be independent when I grow up?' So, learn how to do my own laundry, learn how to order my own food, learn how to check my change after I bought something, learn how to keep my bag with me," Perikles said.
On community trips, Perikles talks to students during the bus ride urging them to look out for landmarks, road signs and practice signaling the bus driver for when they want to get off at the correct stop. Skills like these are often overlooked by teenagers without special needs, but these are real-life scenarios that will prepare the students for a life of independence and freedom.
"You see a lot of growth and it takes months, but all of a sudden it's there because this is a time of tremendous maturity for them," Perikles said.
The LFI students are welcomed and encouraged to participate in various social facets of the school community, but their teachers' only hope is that they are always accepted and included by their peers.
"
I hope they can make friends, especially through Best Buddies, and be a part of as much as they can be a part of. Then after they graduate, I hope they can live independently and happy.
— Newcomb
Once the students have completed their LFI journey, whether it be 4 years or 7 years, several opportunities lie ahead. Many graduates continue their education through taking Montgomery College classes through the Challenge Program. Others volunteer or work retail jobs at stores like Giant or Safeway.
"Managers have said people with developmental disabilities, if they fully understand the task they'll happily do it. They don't get bored and they're the most reliable. They show up for work, they show up on time, they take pride in their work and they do it to the best of their ability. Isn't that what we want with everybody?" Perikles said.
Along the educational journey, teachers see their students blossom into independent young adults and one thing holds true about this bond developed between students and teachers:
"The students and staff work as family," paraeducator Mike Nasser said.
The LFI program sets up students for success, opening the door to a world of freedom and self-sufficiency for individuals with special needs.
"There's a lot of learning in the LFI program that's not necessarily at all academic… but it's real life learning. Learning for independence," Perikles said.
Your donation will support the student journalists of Walter Johnson High School. Your contribution will allow us to purchase equipment and cover our annual website hosting costs.
About the Contributor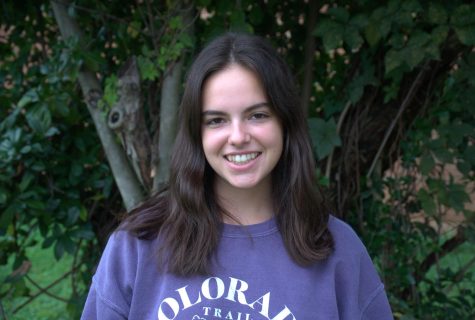 Sammie Cohen, Diversity Inclusion and Equity Editor





Sammie is a staff writer for the Pitch this year. This is her first year on staff and she is very excited! At WJ, Sammie is the co-president...