Veiled stigma: Students avoid lunch in cafeteria
Lunchtime has always been a crucial part of the school day. It is essential for building a positive school environment while providing time for students to socialize and regain their energy after a hectic morning. It is well accepted in most schools that the meeting point of the community during lunch time is the cafeteria.
However, WJ stands out from most schools with a seemingly prevalent rejection of the standard dining locale. There seems to be a perpetual unsaid rule and common decision within the student body — avoid the cafeteria. The consensus is mostly unanimous, but the reasoning between this behavior remains unanswered.
"Who eats in the cafeteria?" freshman Elisa Deparis said.
At other MCPS high schools, such as Einstein High School in Kensington, eating in the cafeteria is much more common and accepted in the student body.
"No one really leaves the building and especially in winter lots of people eat in the cafeteria," Einstein junior Julian Minkoff said.
Some WJ students report feeling an unknown bias from others surrounding eating in the cafeteria.
"
It's [eating in the cafeteria] been seen as weird ever since I came to WJ. Even when I was a freshman, I was always advised to not eat there.
— senior Sydney Morgenstern
A number of students have shown similar sentiments to this. It seems to simply be something stuck into the minds of students, each year being passed on to the next class coming into high school.
"No comment," was a common response when asked about the effect of social pressures or the stigma associated with the cafetera. So as to whether there is a bias that goes unprocessed through the backs of peoples' minds, or they wish to avoid the topic or just don't care either way, remains hidden.
Logically, it seems like a cafeteria with comfortable seating would be more commonly frequented. Though, this is not the case. While the school's hallways during lunch are often dirty and loud, as well as exposed and lacking chairs, they are the favored spot for most students.
"It seems like there's a stigma and people will give you a strange look if you eat in the cafeteria like 'Oh … why would you eat there?'" an anonymous student said.
Other students disagree, choosing to eat in the halls but with no strong feelings towards the cafeteria. Some students simply choose to follow their friends.
"I have nothing against the cafeteria, this is just where my friends sit so I'm going to sit here too," junior Matias Hazbon said.
In addition, open lunch privileges at the school give plenty of extra options for students who are able to.
"The open lunch shows an expression of our freedom that is unique to WJ, which a lot of schools don't have," sophomore Savannah Jarrett said.
Your donation will support the student journalists of Walter Johnson High School. Your contribution will allow us to purchase equipment and cover our annual website hosting costs.
About the Contributor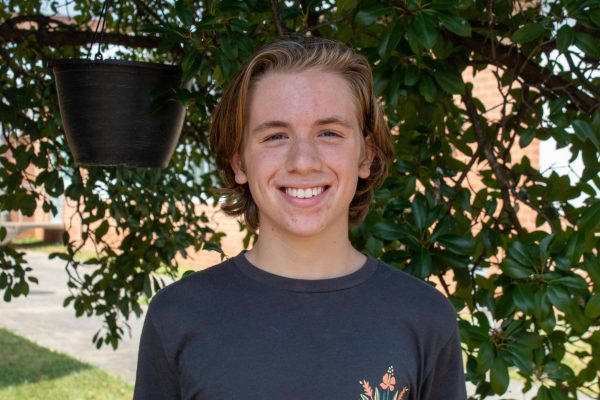 Ely Snow, Online Editor-in-Chief
Senior Ely Snow is an Online Editor-in-Chief and looking forward to working on The Pitch this year. In his free time, he likes to play ultimate and guitar.