Academic Clubs February Recap
WJ is home to many competitive academic clubs, which serve as ways for students to collaborate together to learn about scholastic topics and compete against teams from other schools. Here are a few of those clubs and a behind the scenes look at how they are gearing up an eventful month.
Science Olympiad
Starting off the season, the team participated in an online competition hosted by Centerville High School in Ohio, where they placed 16th. Detector Building (Zine Rehman and Cassia Klein) and Codebusters (Alex Lewton, Meley Ghermay and Prakriti Tiwari) each won fifth place in their individual events.
The team won third place at the Fairfax Invitational on Jan. 7. Out of 23 events, three earned first place – Green Generation (Lewton and Ghermay), Fermi Questions (Lewton and Silas Hultman) and Dynamic Planet (Hultman and Riddhi Sadhanala).
In February, the team placed 15th out of 46 teams at the Princeton University Science Olympiad Invitational on Saturday, Feb. 4. The team rose to the challenge figuratively and literally as they departed from WJ at 3 a.m. on the morning of the fourth to get to Princeton on time.
"I am very happy with our team's success at Princeton! We brought a level of commitment and enthusiasm that helped us place higher than previous years in a very competitive pool," co-president Silas Hultman said.
The team next competed at Regionals at Montgomery College Germantown on feb 11 where 33 kids in 24 events competed. The team earned second place, winning a tiebreaker over Richard Montgomery HS, its best showing at the event since. Six events placed first, and because the team placed in the top 12, they qualified for the state competition at Johns Hopkins University in April.
The team will next compete at the University of Maryland Invitational on March 11.
Biolympiad
Biolympiad is the newest competitive club at WJ, and was restarted this year after being dormant for a number of years. The club is centered around studying biology topics such as animal and plant physiology, cell biology, and biosystematics, with the hope of preparing students for taking a series of nationally administered biology exams by the United States Biology Olympiad (USABO) organization.
The first round of tests is taken nationwide online, and took place on Feb 2. Participants have 50 minutes to answer 50 multiple choice questions, and are notoriously difficult. As a result an immense level of studying and preparation is required, much of which takes place during Biolympaid meetings.
The highest scorers move on to the semifinal round, which involves another test, including a written response and short answer section. The olympiad concludes with a nationwide finals at Marymount University and an international competition in Dubai.
Now that the preliminary test has been successfully taken, however, co-president sophomore Meley Ghermay aims to broaden the scope of the club's activity.
"The club is gonna be less test prepping and more just having fun [and] experiments. (…) We want to rebrand it next year as just a biology club so that people don't feel intimidated like they have to do a test with it, because not everyone has to do a test." Ghermay said.
Quizbowl
Quizbowl competes across the DMV region in trivia competitions in topics ranging from literature and U.S. history to geography and math. It meets twice a week in order to master the topics and hone in their skills and learn how to perform under a wide variety of tournament styles.
"What we do typically [is] we run through games. Our practices will vary based on what our team members wish to focus on along with input from our coaches as to what they believe could be helpful… we have our different game formats with the packets, and so we'll read through those and answer questions," co-captain Grace Chulapakorn said.
The Quizbowl team has been competing for the better part of the year and has one of the longest competition seasons out of any competitive academic club. This is due in large part to its variety of competition formats, which vary depending on which tournament style the team is participating in.
The first type is "It's Academic", which sees WJ and teams from two other high schools compete in televised trivia matches. This year, the team made it past the preliminary round, but fell in competition in the first round of the playoffs.
The second type is the Montgomery Academic Beltway League. Teams compete in triweekly competitions during a lengthy preliminary season, after which the top teams qualify for playoffs.
"Last year we made playoffs for MABL, this year we were one below the cutoff… but that's fine because our goal is to play to have fun, not play to win. Winning's a bonus," Chulapakorn said.
The third type are the independent competitions, which are smaller in scope than the other two and typically run over the course of a single day. These competitions, which make up the remainder of their season, have seen the WJ team earn their strongest placements this year.
Ultimately, the Quizbowl team looks at the rest of the school year as an opportunity to strengthen the base of their club and ensure success for years to come.
Model United Nations
Coming off of a long period of online competitions due to pandemic-induced restrictions, Model United Nations is looking forward to a number of in person conferences this spring.
The club, which meets biweekly during lunch in 110, spends the first half of the year instructing its members on the rules and procedures of the United Nations as well as the stances of a wide variety of nations on current events across the globe. In conferences, each member is assigned a different country and they must advocate for their country using its real world stance on the issues.
"It's like speech and debate except you're competing more on how you can cooperate with one another rather than how well you can argue against one another," president senior Max Turnacioglu said.
The goal of the club is for members to win awards for their performances at conferences which are awarded by supervising volunteers who dole out awards based on each member's performance. The top prize is the "best delegation" award given to the strongest overall school.
"In the past we've done well in virtual conferences but it's been about three years since we've been to an in person conference because of Covid, so it's a lot more tough for our delegates," Turnacioglu said.
Earlier this year the club attended a conference at Winston Churchill HS, and while they did not earn a plethora of accolades, it still served as an important opportunity for growth as the club looks to the future.
"We're just kind of hoping to set the precedent of what the club is, a mixture of fun and of learning about the UN. We're hoping that members stay on for next year because then we'll be able to do even more conferences, even bigger conferences, with more fundraising and the like," Vice President of Programming senior Gabriele Barke said.
Model UN's next competition will be at Towson High School on March 25.
Your donation will support the student journalists of Walter Johnson High School. Your contribution will allow us to purchase equipment and cover our annual website hosting costs.
About the Contributors
Seyun Park, Print Editor-in-Chief
Junior Seyun Park is in his third year of the Pitch, happy to join this year as a Print Editor-in-Chief. Outside of Pitch, Seyun plays tennis and cello,...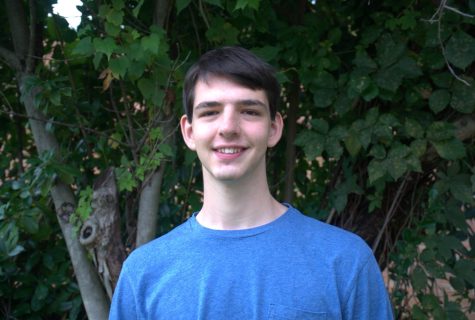 Alexander Lewton, Print News Editor
Alexander is a Print News Editor for the Pitch. He is a senior and in his free time he enjoys reading, hiking, and playing the piano.