Restaurant Review: Anthony's Coal Fired Pizza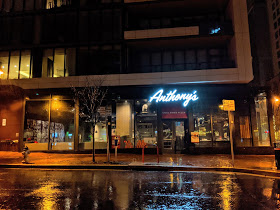 Physicality
Located in downtown Bethesda, Anthony's Coal Fired Pizza is taking the area by storm. The newly added restaurant originated in Florida and is currently the only one in all of Maryland. Starting with the exterior, you will be quick to notice that this is no ordinary pizza joint. The restaurant sits on the corner of Norfolk and Fairmont – adjacent to popular steakhouse Medium Rare – with glass windows running from just above the floor to the ceiling, only interrupted by thin, charcoal black columns every three feet or so. On the side of the restaurant flowing alongside Norfolk Avenue, the lone word "Anthony's" is accompanied by a hidden bright red oning with the words "Coal Fired Pizza" directly below. Upon entering, there is a funnel-like ten yards standing between your host/hostess and the front doors. A narrow walkway marked by two four foot wooden walls with five feet in between them stretches from the entrance to right in front of where you wait to be seated. The intimitaley dim-lit interior gives customers a very Buffalo Wild Wings-ish feel in the sense that it's a place for adults to drink beer as they watch the game, while on the other hand, families can enjoy a meal with the occasional glance at the TVs overlooking the restaurant. On top of the family friendly side of the restaurant, there is a wall filled with pictures of (presumably) employees and former customers much like at Izes Bagelry on Rockville Pike.
Non-Tangibles
Right from the jump, the staff is (or at least they were when I went) exuberant to work with you. The hostess greeted my friend and I with a smile on her face and excitement in her tone. There was no waiting time for our party of two on the Sunday evening which we went, but clearly this likely won't be the case for a party of six on a Friday night. After being seated, there was only about a minute or so until our waitress came to get us started with drinks. She matched the level of excitement which the hostess displayed and was nearly perfect overall. My only complaint (and it's a minor one) is that when we were done eating, it took a while for the check to be brought to us, but of course, this could be for reasons which we weren't aware of.
Food
Now, time for what really matters. We started the dinner with an appetizer of "Coal Oven Roasted Chicken Wings," which had a nice kick to them. Unlike traditional buffalo wings that call for hand wipes to get the sauce off your fingers, these wings didn't really seem to have sauce on them. Instead, they were crisp and the spice was embedded under the breading of the wing. As for the main course, we split a small (12") cheese pizza. The pie was cut into six slices, which means that I got three slices of grande mozzarella, Italian plum tomatoes, romano cheese, basil and olive oil all on top of a coal-fired crust. The cheese was melted to perfection; each slice remained attached to its adjacent piece of the pie until it hit my plate and the cheese was forcibly cut by my fork. The total cost for the five wings and small pizza came out to just over twenty dollars, which is a pretty good deal if I do say so myself.
Overall I rate this experience as an 8.5/10.
Your donation will support the student journalists of Walter Johnson High School. Your contribution will allow us to purchase equipment and cover our annual website hosting costs.
About the Contributor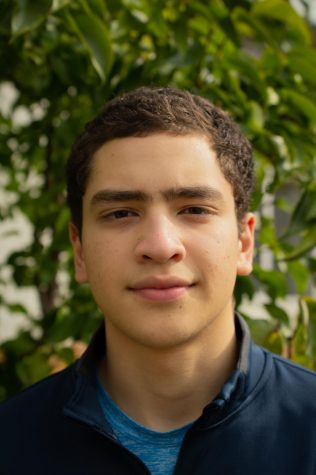 Gabe Riveiro, Staff Writer
Gabe Riveiro is a senior at WJ and is new to the Pitch family. He joined the team as a staff writer this year and he is very excited for what lies ahead!...