Questions about reopening linger over second semester
More stories from Maeve Sanford-Kelly
As students and teachers head back into the virtual classroom following winter break, the question of whether, and when, schools will return in person looms. On Dec. 15, the Board of Education released their final plan on returning to school.
This plan includes two phases of reopening, each with two groups of students within them. The first students to return to school will be certain high need special education programs as well as children in kindergarten through third grade. They will be followed by pre-kindergarten and grades four, five, six and 12 as well as students in different special education programs. The outline for priority within special education programs has been provided on the county's website.
Group one of phase two will include grades eight, nine, and 11 while grades seven and 10 are in the final priority group. For WJ students, this means that seniors would be returning in the first phase while everyone else is in phase two. Juniors and freshmen are in group one of the second phase and sophomores are in group two of the second phase.
A survey was sent out to parents on Nov. 11 that asked them to select whether their children would be interested in returning to in-person learning. Parents were required to respond by Dec. 7. The original deadline was extended because parents who had not previously realized that the survey was binding (only those who selected that they would return on the survey will be allowed to return in the 2020-2021 school year) asked the county to extend the deadline.
Countywide, 76.7% of families responded. Of those who did, about half selected that they would like their children to be enrolled in partial in-person and the other half elected to remain completely virtual. The numbers at WJ were quite similar. About 1400 students of the 2845 enrolled selected in-person learning while approximately 600 families did not respond to the survey.
Junior Ruby Topalian is among the students who elected to stay home.
"My parents decided that I should stay entirely virtual for health reasons, Walter Johnson has over 2,000 kids, and also my brother and I have been doing a lot better online. It's a lot less stressful," Topalian said.
Junior Rylee Petrole also decided to remain in virtual learning. She has been residing with family out of state during the pandemic so she felt staying online would be the easiest option for her however she supports the county making plans for returning.
"I think it is important to prioritize going back to school, but also safely. I'm not a scientist so I don't know what number of cases of what percent of deaths is significant, but I think going back to school is very important because I know many people are struggling without that opportunity to be face to face in the classroom environment," Petrole said.
Petrole does have concerns that going back to school in the middle of the year could cause chaos.
"I think that trying to go back into school during the 3rd or 4th quarter would add a lot of stress and confusion as students and teachers adapt to getting used to a new schedule," Petrole said.
Senior Danielle Nevett chose to select the in person/hybrid option.
"The main reason why was because the survey said that if you chose no, you can't change your mind but if you chose yes, you can always switch to virtual. I wanted to keep my options open," Nevett said.
While some lament the challenges of returning to the classroom, others highlight the issues relating to not doing so. Significantly more MCPS students are failing English and math classes during online learning than had been in-person. These drops are particularly significant among students in poverty, who have seen a 20% rise in failing grades, and ESOL students, who have seen a 23% rise according to data provided by MCPS.
Much has been made of the curiosities surrounding the MCPS return plan; however, it is unclear if returning during this academic year will be feasible at all.
Nevett is among the students who are not particularly optimistic.
"Quite honestly, we [Nevett and her parents] filled out the survey pretty nonchalantly because we're not expecting that we're going to meet the health metrics. If the numbers are looking good, I'm definitely open to going back but I'm not expecting it," she said.
The president-elect of the MCEA (the County's teachers union), Jennifer Martin, recently published an op-ed in the Washington Post highlighting the concerns teachers have about returning to the classroom before it is safe to do so.
"With a deadly pandemic raging, Montgomery County Public Schools teachers and parents are demanding that health and safety issues be paramount in any plan for resuming in-person instruction. Science — not economics or politics — must drive our decisions if we are to ensure a quality learning experience for students when they do return to school," Martin wrote.
Concerns from teachers were among the barriers to the County implementing hybrid learning for the fall semester. It is unclear how state and county vaccination plans, which are likely to prioritize teachers in some way however have been slow to roll out, could impact reopening.
"Trying to nail down the details of a reopening plan while infections continue to surge is like trying to hit a bull's eye while riding a bucking bronco," Martin wrote, expressing the assessment of many in the MCPS community.
The Board of Education will meet Jan. 12 to decide if the return to in-person will begin on Feb. 1 as originally planned. That start date is unlikely to be approved as the county safety metrics for return, including between 140 and 209 new cases a day, are not being met. Nationwide, there has been a rise in COVID-19 cases over the past couple months and many health experts expect that the holidays, and in particular the travel that many Americans engaged in, could spark a greater increase.
About the Contributor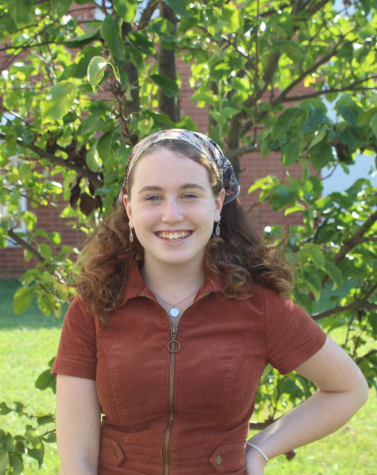 Maeve Sanford-Kelly, Print Managing Editor
In her second year on The Pitch, Maeve Sanford-Kelly is excited to be serving as a Print Managing Editor. Outside of The Pitch, she's the Chair of Maryland...