Leadership class to undergo major changes
The leadership class has been an important part of the WJ school culture for years. Made up of about 30 seniors, its purpose is to plan events for students, bridge the gap between the student body and administration, and make WJ a better place for everyone. However, recent events and an examination of the student culture at WJ have led leadership advisors and administration to institute changes in the structure of the class and the selection of participants after next school year.
Starting in the 2022-2023 school year, the leadership class will be made up of four SGA officers, four senior class officers, four junior class officers, four sophomore class officers and four Minority Scholars Program (MSP) officers. There will be an additional 10 students (juniors and seniors) who are selected via an extensive application process by a committee of students, teachers and administrators. Currently, the leadership class is made up of about 30 seniors, four of whom are SGA officers and another four senior class officers. The leadership class for the 2021-2022 school year has already been selected, and will be the final class to follow this format.
"We brainstormed a lot about listening to students, particularly our minority students, and how they were feeling about the class, and why students didn't even apply because they felt that they wouldn't be accepted into the class," Principal Jennifer Baker said. "We talked about what we really need and want from the leadership class, and so that's why we really started thinking about the structure and really having the true leaders of the group being made up of students who hold important leadership roles in the school."
This year, especially due to the different nature of online school, the leadership class has been able to take the first steps toward improving equity at WJ through their town halls and work with different cultural clubs. Social studies teacher and Leadership advisor Melanie Schwed is proud of these efforts, citing their impact on WJ
"Something I've noticed over the last few years as a Leadership advisor is that a lot of Leadership is focused on spirit and pep rallies and homecoming movie, which is great, and they do a lot of fundraising which is amazing, but I also want them to be involved in actually making WJ a better place," Schwed said. "The biggest thing SGA and the leadership class has done is the town hall meetings. Those started because SGA wanted to bridge the gap between admin and student voice, especially this year. We had different themes for the first two, and then started to pair up with other clubs and focus on equity and anti-racist work."
With this new structure, the way the class is selected will be different. Currently, the majority of the members in the leadership class are chosen by Schwed through a detailed application process, which includes an online written application, two teacher recommendations, an optional interview and participation in school-wide events. The new class will now be more of a "class of the people," since the majority of the members will be elected in. Those who choose to apply will be selected by a committee, rather than just by one advisor.
"Having one person sift through all the applications, interviews, not knowing the kids, is not an effective way to choose who should represent the school," Schwed said.
This change won't occur immediately. Next year's leadership class will still follow the current structure. However, they will work with Schwed and administration to figure out the details on how future classes will be run, giving underclassmen time to decide if and where they envision themselves in the class.
"This is a large shift for people who have envisioned themselves in leadership for a long time, or people who have envisioned themselves as an MSP officer. It wouldn't be fair to spring on the school right away. This would give us time to plan and process, which is really important in making a big shift in structure," Schwed said.
Schwed also noted why they made the choice for the class to include officers from MSP, rather than from the other clubs at WJ that focus on diversity as well.
"Minorities Scholars Program is more of an honor society, rather than a club, and it represents all minorities at WJ, so any student of any background can join. Their mission is similar to the mission of Leadership and because of that overlap it makes sense to include MSP in the class," Schwed said.
Current Leadership student, senior Danielle Nevett recognized that there are many inequities in the class and hopes that this new format will bring forth new opportunities for the leadership class to be more effective.
"I hope that [future classes] will be able to better unite people from different grades and backgrounds, get more people involved and participate in different events and spirit weeks," Nevett said. "We can reimagine old traditions and start new ones, so the new leadership class can leave their mark and make WJ a better, more inclusive place"
Schwed agrees that this new version of the class will hopefully be able to be more effective than previous classes. She listed three main goals that she has for future classes.
"My motto is 'shift the culture.' We want to shift the culture away from pep rallies and spirit, and do more important, meaningful work. The three goals are to shift the culture, include more diverse voices from different ages and backgrounds, and shift to more meaningful work, as well as spirit and the 'fun stuff.'"
As WJ looks to the future and what school events will look like post-COVID, the leadership class will have many important decisions to make regarding their contributions to WJ. With this new structure in mind, the community anticipates a more inclusive, fun culture at WJ in the coming years.
Your donation will support the student journalists of Walter Johnson High School. Your contribution will allow us to purchase equipment and cover our annual website hosting costs.
About the Contributor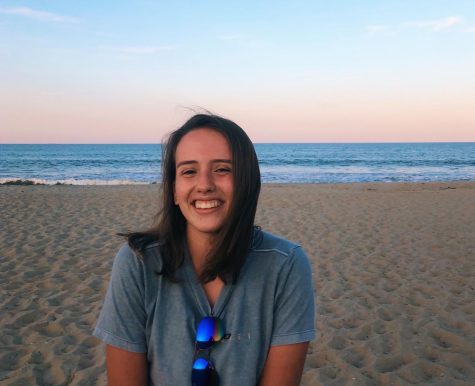 Emma Saltzman, Print Managing Editor
Emma Saltzman is a senior at WJ and is thrilled to be spending her second year on The Pitch as a Print Managing Editor. In her free time, Emma loves to...